Well we are post Mayan Apocolypse, so either it didn't happen and we survived, or it did happen and we all came back to where we were. I have my iPhone set to display military time…..and I felt a little funny at 21:21:21 on Dec. 21, so I'm leaning toward the latter. Either way, we are still in Denton……….at least the me of we is. December brought cold weather which means that Dentoning moves indoors for the most part. We have a wide variety of places to do our thing and it's always nice when a new one opens. As you know, I smoke an occasional cigar. I of course, do not encourage smoking, but if you're gonna, the cigar is the way to go. First of all, one doesn't inhale while smoking a cigar. Cigars are tobacco only……none of the nasty chemicals that cigarette companies add to their products to enhance the taste (addiction) are included in a good cigar. And there's just something relaxing about smoking a cigar while reading, listening to music, discussing and solving world problems, or blogging…..

With that said, you can imagine my delight to find that Cigar Frog's is now open.
I had heard they were coming, but I thought they were still months away from opening. They opened Dec. 27th at 100 N. I35 E, Building # 101. They are located just off the highway in a small business park. The Denton store is the second location, the first being in Midland. That cigar bar has been open 3 years and much of their business comes from the oil/gas industry. The Denton location was chosen as a tranquil stop for their Midland customers driving from there to Dallas and because Denton was lacking in a large smoking establishment. (Though Cellar 22 on East Hickory Street has a nice, yet smaller selection of fine cigars). By "large", I mean huge. The walk-in humidor is 14′ by 20″ and has over 400 different cigars. The main room is enormous with large, comfy,over-stuffed chairs, smoke-eaters, cool pole-fans, TVs and a large selection of beverages. There is also an exterior deck with wicker chairs, fans and lap blankets for your cold weather comfort!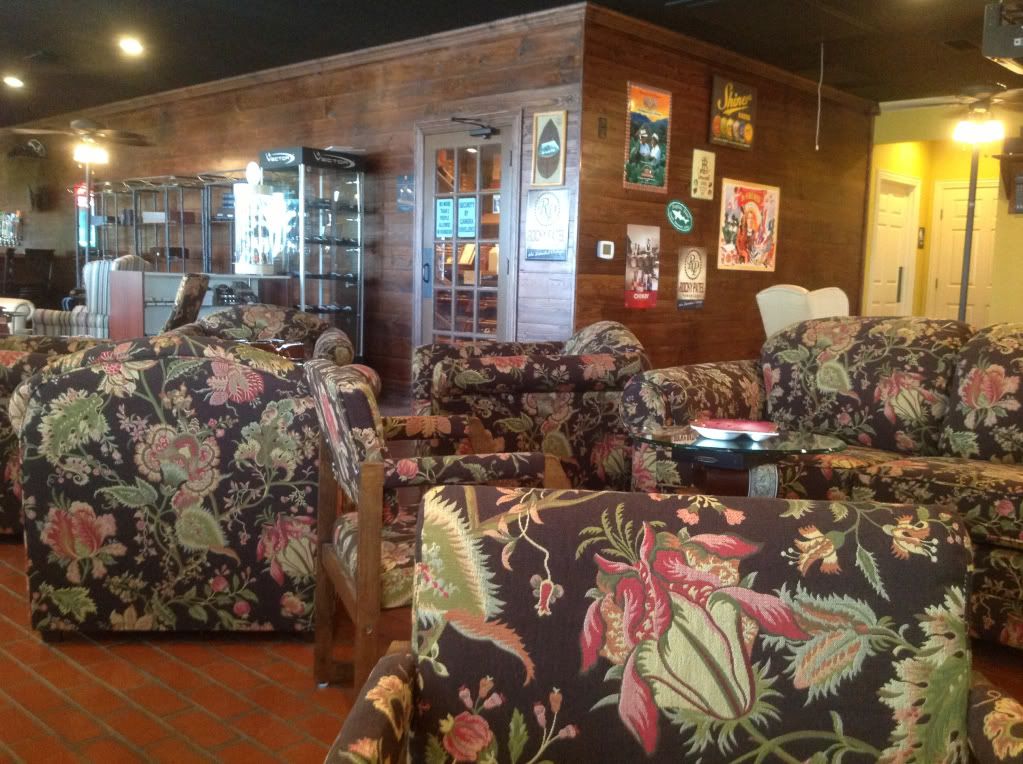 As we know, we live in a really cool place. Denton is evolving into a uniqueness all it's own. It is often called "Little Austin", but that title limits what is going on in our fair city. Our city leaders are acutely attuned to making Denton a better place to live. The City of Denton's Economic Development Department is doing an amazing job of attracting both fun places and businesses which add to the economy of our wonderful town. Salutes to all of them! As 2012 comes to a close, we can look forward to an even better Denton! I hope everyone is enjoying the Holidays and will enjoy the coming New Year………….
(as always, this blogger received no free cigars, other swag, or even water in the writing of the above)…………. ( :