DENTONING: \dent\un\ing
(intransitive verb)
1: the experience of enjoying/discovering/exploring all that the great City of Denton, TX
has to offer <we spent all weekend Dentoning>
2: the discussion of pertinent/impertinent/fun/serious
/political subjects involving the great City of Denton (or anything else this blogger wants to discuss) <during a cerebral round of Dentoning, they discovered the meaning of life>
3: an event/occurrence /incident happening in the great City of Denton <there is a weekly Dentoning, Saturdays on the courthouse lawn called the "Acoustic Lawn Jam">


Thanksgiving……….part of Dentoning, but a more private version than we are normally accustomed. I think we are all thankful to call Denton home, and with very good reason. Denton is the background for our past time, but there are other, more important, things for which to be thankful. As a cancer survivor, I was given a new outlook on life almost 32 years ago. Whereas before the illness I took life for granted, the cancer experience gave me an acute appreciation of life and for every day that I am given. Every time I see or talk to my sons makes me realize how fortunate I am to still be here. I am truly thankful for life……
The past few days, actually, the past almost 5 months have made me see how fragile life is and how quickly what we sometimes take for granted can be taken from us. The story I'm about to tell really starts over a year ago when my dear cousin, Matt, was killed in a motorcycle accident. Matt lived in Brooklyn and after his death, I went there to help his widow, Ursula, start to get her life back together. During the several weeks I was there, I met and became friends with many of Matt and Ursula's friends. One family, the Mapes, was extremely helpful, kind, caring and thoughtful and quickly became close friends of mine too. I can never repay John, Theresa, "Little" John and Simeonette Mapes for all they did for Ursula and I during that very sad time. They made us feel like family at a time we had lost part of our's.
Skip forward almost a year, from September of 2011 to July of this year. Ursula wanted to have a memorial dinner for Matt on his birthday, August 2 and asked me to come up to New York to attend. I booked a flight about July 1st to take advantage of early booking price breaks. I was really looking forward to visiting with all of my new friends under the better circumstances of it being nearly a year's time since Matt's death. During the afternoon of July 5th, I got a call from Ursula. She told me, through tears, that Simeonette Mapes had been murdered. I was shocked, stunned, and sickened. Although I knew her parents better than Simeonette, she had been extremely thoughtful and kind to me the previous summer. The Mapes are "salt of the earth" people. Just the fact that I knew someone who had been murdered was shocking enough, but the victim being part of the Mapes family made it all the more horrible. I had noticed Simeonette post on Facebook earlier that week that she and her husband "Crupi" (their last name) had been very near a driveby shooting that day after their jobs teaching at the same high school in Brooklyn. The story of her death was even on the Drudge Report on the day it happened because the original theory was that the drive by shooting had something to do with her killing. It didn't…….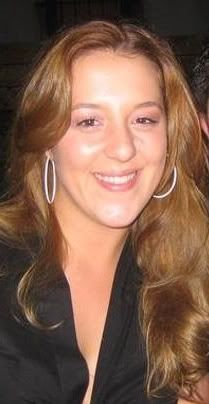 Simeonette Mapes
The murder was a particularly violent one. Twenty nine year old Simeonette was stabbed at least 15 times in the back and in the head. Simeonette and Crupi lived on Staten Island and the local newspaper, the Staten Island Advance, quickly shifted the theory from the driveby to one of home-invasion gone bad (not that one ever goes well). By the time of the funeral, just a few days later, a theory solidified into an unthinkable, truly unimaginable one.
Crupi had come home on July 5th from running errands and working some at school to find Simeonette lying dead in a pool of congealed blood in the foyer of their apartment. He let neighbors know what had happened and then called his mother in law, Theresa Mapes. The first words out of his mouth were "I'm sorry, Sissy (Simeonette) is dead". Theresa thought it was a prank call and hung up. He called right back and again said "I'm sorry". Theresa, of course, went into shock and the nightmare began. Crupi's wording was odd, but no one really thought about it until people began to notice unusual, detached, selfish behavior on his part in the days immediately after the murder. He showed very little, if any sorrow during those days and within two days of the murder told the Mapes that it was time to "get (his) life back together". For four days after the murder, Crupi lived at the Mapes' house…. he wanted desperately to get back into the apartment he and Simeonette had shared though, but it was still considered a crime scene, and he was not allowed anywhere near it. He also "copped" an attitude with the NYPD which was very confusing (and telling) to them. The suspicion that Crupi was his wife's killer quickly took hold with the family and with the NYPD.
After the funeral, the Crupi family was told that they were not welcome at the Mapes' house and all contact was cut off. Crupi, who John and Theresa had considered a son, called a few times, but no one there wanted to talk to him. "Little" John, Simeonette's younger brother, had never liked Crupi and had been suspicious of him from the start. "Little" John had immediately thought that Crupi had killed his sister, but waited to say anything, to people other than family, until the NYPD also suspected him. "Little" John soon started playing "what-if" in his mind. The details of the murder are, for the most part, unknown. Those that have been made public, can be Googled, but the investigation of Crupi began almost immediately and continues today.
Getting back to being thankful…….. my sense of it was heightened during the last two days. I came up to the Northeast a week ago for business. I had just completed that when I got a text from one of my New York friends, Maryrose, that said, "They arrested him!!!". That was the best text I ever received. My business partner Steve Yount and I immediately went to pick up Ursula and the three of us drove across the Verrazano Bridge to the Mapes' home on Staten Island. The scene there was bittersweet. Everyone was relieved that the suspected killer of their dear family member had been arrested, but were still shocked that it was their son/brother in law. The family has some sense of closure now, but what horrible closure…… That night we found out that Crupi would be arraigned the next day at a courthouse on Staten Island. We all made plans to be there for the "perp-walk" of the person now know as the "MONSTER".
Several of us arrived early at the courthouse on Targee Street in order to get seats in the small courtroom. Friends and family, including Crupi's parents, waited anxiously as many other non-law-abiding individuals were brought before the judge. John, Theresa and Little John were with the DA until just before Crupi was brought in. We could tell when it was about to happen when the courtroom suddenly filled with policemen. They basically formed a wall between the spectators and the judge's bench. When the name "Jonathan Crupi" was called and he was shuffled, shackled into the room, Theresa began to cry inconsolably. (Marissa Crupi, the mother of the accused, showed no emotion at all.) It was heart-wrenching. It was the first time she had seen her son in law in over 4 months. The last time she had heard his name announced in front of a large group of people was the day he married Simeonette. She grieved for her daughter and she grieved for the son in law she never REALLY had, but not for the person she never really knew. Crupi was remanded to Rikers Island with no possibilty of bail before the trial.
No one ever thinks they will know someone who is murdered. I did not know Simeonette well, but her parents are like my brother and sister. Their horrible loss has made me realize, even more than I did already, just how precious life is. Their lives and the life of Little John will never be the same. A truly incredible loved one was senselessly taken from them. They are thankful for the time they had with Simeonette, but their thankfulness has been blunted. Their faith has not, but unconsciously, their sense of being thankful has. I am riding home to Denton from New York as I type, and I am thankful that I can soon hug my two sons…………every day is a blessing.


Enjoy Denton, Have a Happy Thanksgiving, and enjoy life!!!